Local Science Teacher Overcomes What Students Nicknamed the "Mealey Bobble"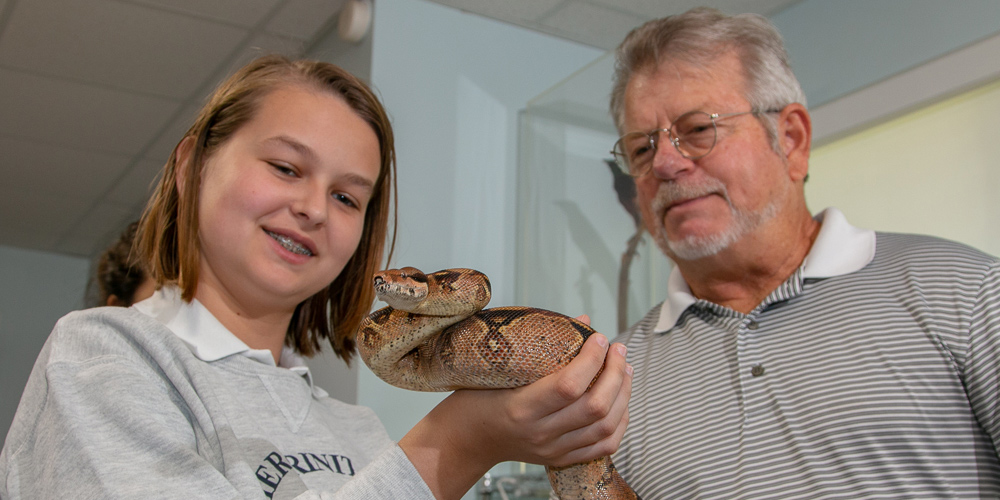 South Florida native Brian Mealey, PhD, 64, is passionate about two things: science and his students at Palmer Trinity School in Palmetto Bay.
But after multiple health scares over the last few years, including a stroke and a persistent abnormal heartbeat, Mealey worried whether his career in the classroom was over.
In 2014, Mealey was diagnosed with atrial fibrillation (AFib or AF) – a condition where there is an irregular, often rapid heart rate that commonly causes poor blood flow in the upper chambers of the heart and leads to reduced blood flow to the brain, which could cause a momentary loss of consciousness. He was prescribed a series of medications that would control his heart rhythm and blood pressure, but soon after, he started to experience what students labeled the "Mealey bobble." It began with Mealey experiencing moments of lightheadedness that would lead to his head drooping like a bobble-head doll, followed by semi-unconsciousness. The students became concerned for their cherished teacher – and that triggered him to get checked by a cardiologist.
Doctors believed his symptoms were related to low blood pressure. They had Mealey continue with the existing prescribed medication, and sent him home.
But not long after, the "Mealey bobble" struck the teacher at school again, this time causing him to fall and lose consciousness. Fire rescue was called and paramedics rushed Mealey to Jackson South Medical Center. There, the multidisciplinary team at the emergency department reached out to Ivan Mendoza, MD, associate medical director for the Jackson Medical Group's cardiology practice. They were convinced that his condition was related to his heart and not low blood pressure, as he had been told elsewhere.
Dr. Mendoza and the heart team at Jackson South also determined that the heart medications Mealey had previously been prescribed were incorrect. The cardiologist took him off the medications but also attributed the cause of the "Mealey bobbles" as atrial fibrillation.
"Fifty percent of the people who have this condition cannot tell they have it," Dr. Mendoza said. "Individuals should seek medical attention after experiencing the most minimal symptoms related to this condition that could make them vulnerable to having strokes."
September is National Atrial Fibrillation Awareness Month and according to the American Heart Association, at least 2.7 million people in the United States have atrial fibrillation. It's the most common type of heart arrhythmia (irregular heartbeat) that can interrupt the normal flow of blood.
To help Mealey, Dr. Mendoza implanted the Micra Transcatheter Pacing System or Micro TPS, a tiny pacemaker for patients with an irregular heartbeat. It remains the only leadless pacemaker approved for use in the United States, and it is the world's smallest pacemaker.
"The beautiful part of this technologically advanced pacemaker is that it gives him mobility and does not give him limitations to do the kind of activities he's passionate about," Dr. Mendoza said. "Patients can go home within four hours and the recovery time is very short."
For Mealey, his experience at Jackson has been life-changing.
"I had never been to Jackson, and the fact that paramedics took me there changed everything for me," Mealey said. "They gave me my freedom back, and I now have Dr. Mendoza as my permanent cardiologist. I wouldn't go anywhere else."
Time has passed since the Palmetto Bay resident has experienced the "Mealey bobble" or other health emergencies. He goes in for check-ups every six months to ensure he is as healthy as possible.
Mealey, a wildlife enthusiast who worked at the Miami Science Museum for 30 years before pursuing a career as a high school teacher, is happy to have regained his independence. He no longer worries about when he will encounter the next unexpected health scare.
Most importantly, he's back doing what he loves: teaching.
"What I've learned from all of this is to enjoy life, be resilient, and have a purpose," Mealey said. "I value my life experiences so much more now."