Local Teacher's Life Saved After Cardiac Arrest Shortly After Diagnosis Of COVID-19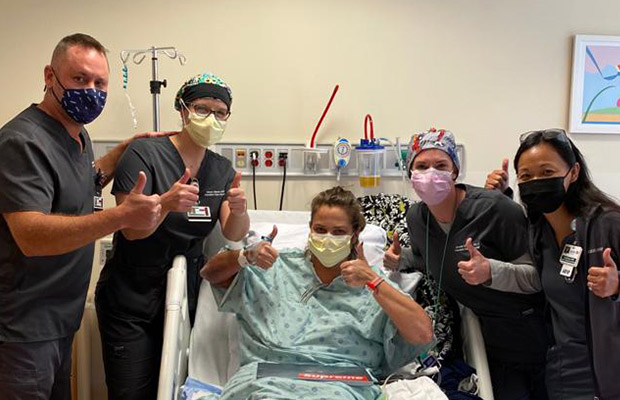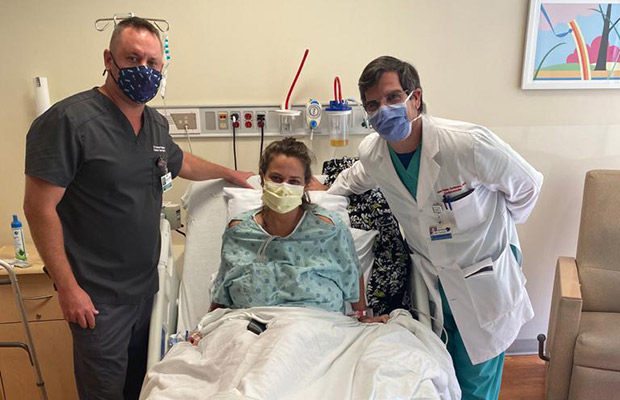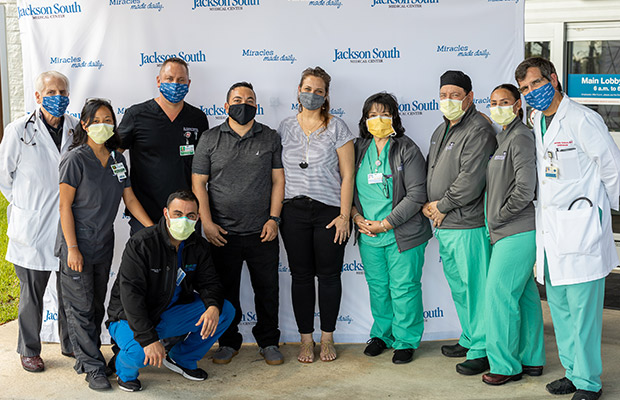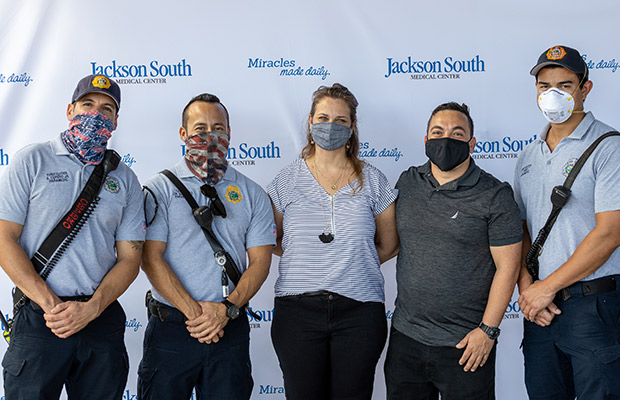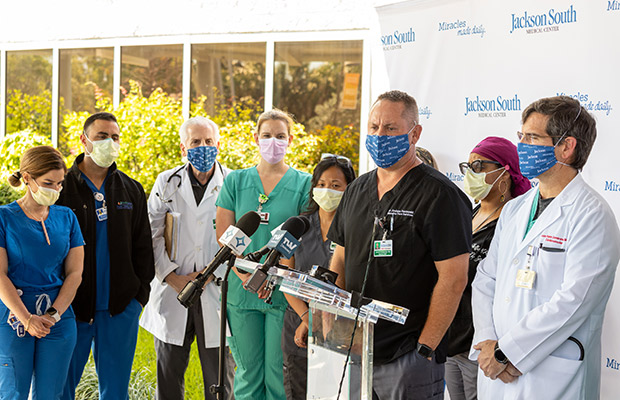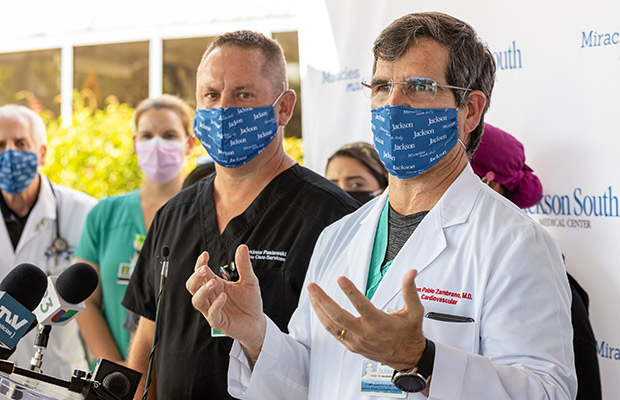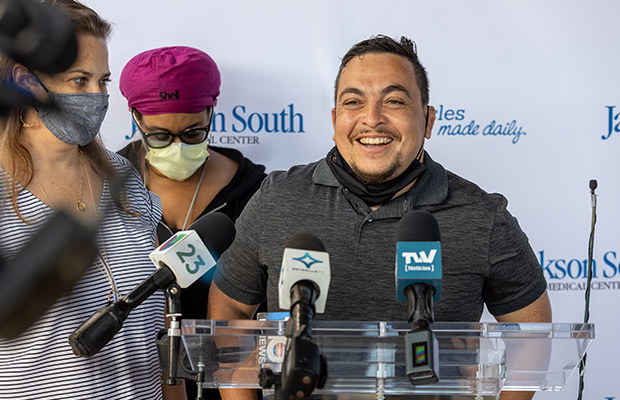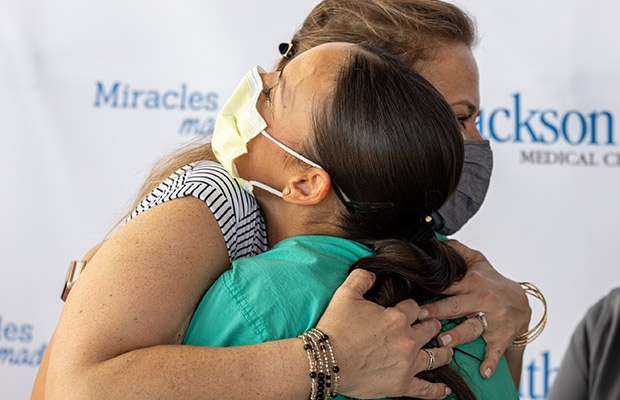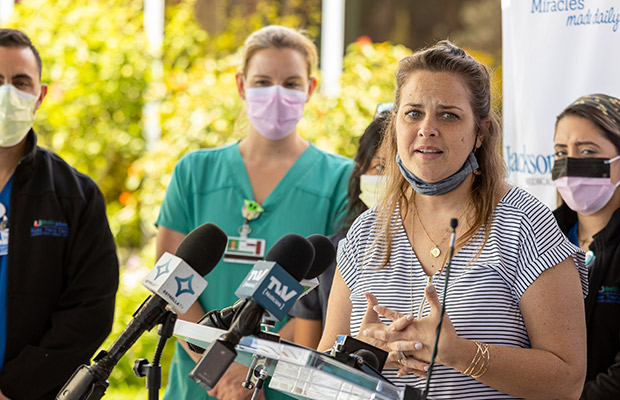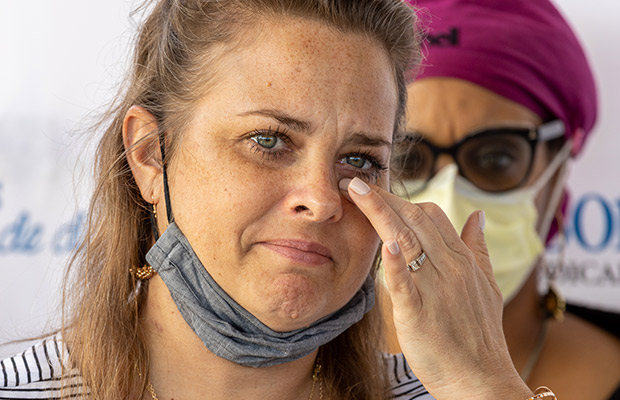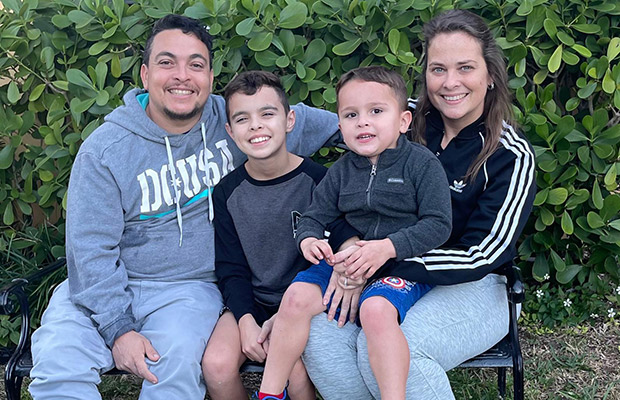 In mid-December, Brettlynn Wolff, 39, got tested for COVID-19 as a precaution for her family's well being. Her test came back positive, and within a few days, she experienced what seemed to be a short-lived fainting spell. The next morning, Wolff, a fifth-grade teacher at Campbell Drive K-8 Center, woke up breathing heavily.
Her husband, Donald Bravo, noticed she was struggling to breathe. He quickly rushed over to her, laid her on the floor, called 911, and began performing CPR until the paramedics arrived at their Cutler Bay home to transport her to Jackson South Medical Center on December 18.
Miami-Dade Fire Rescue (MDFR) paramedics administered a therapeutic shock while in route to try to reestablish a normal heart rhythm.
"She had a fainting episode three years prior, which doctors attributed to dehydration – but I knew this was different," said Bravo. "I was already traumatized because I lost my mother in July from COVID-19, and I didn't want to lose my wife too."
Andrew Pastewski, MD, ICU medical director at Jackson, and his team knew that every second was crucial for Brettlynn's survival. What they found was possible brain damage, and a positive diagnosis of COVID-19, that brought on myocarditis, a severe inflammation of the heart. She had to be put on a ventilator to breathe.
"Due to the lack of oxygen, there was evidence of brain damage, so we decided that the best approach was the hypothermia protocol. Freezing her for a day would prevent further brain damage," said Dr. Pastewski. "It was unknown if her brain was salvageable, and we noticed in an X-ray that this could've been caused by COVID-19 but could also be attributed to heart failure."
The outlook for the mother of two began to look grim.
"My wife was on a ventilator, and it was exactly how I last saw my mother before she passed away," said Bravo. "I felt like I was reliving the whole situation all over again but the medical team communicated with me every step of the way."
Dr. Pastewski consulted with cardiologist Juan Zambrano, MD, who performed an echocardiogram alongside his catherization laboratory (cath lab) team, to determine heart function. What they found was that Brettlynn's heart was only functioning at 10%. Usually, COVID-19 affects the lungs, but in this case, it was debilitating her heart, with diffuse lack of cardiac contractility consistent with Severe Global Myocarditis – a rare cause of cardiovascular disease primarily manifested as sudden death, chest pain, or heart failure.
"Using the Impella 2.5 heart pump, we attached balloon pumps to assist both sides of her heart," said Dr. Zambrano. "This was a minimally invasive procedure that was placed through her femoral artery in each thigh, into the ascending aorta, across the valve and into the left ventricle of the heart to help patients maintain blood flow to the body's organs."
Wolff's body was in a state of shock, and this procedure was a last resort to treat her failing heart before doctors would recommend she need a heart transplant at the Miami Transplant Institute. She had also developed renal (kidney) failure.
Throughout the ordeal, Wolff's husband – who lost his mother to COVID-19 just months before – never lost hope, and neither did the medical team that was caring for her. Just before Christmas, Wolff's oxygenation improved and she opened her eyes. She joked with the medical team that she needed to go home to her husband and wrap presents for her two boys – 11-year-old Drew and three-year-old Grayson.
"The best Christmas present I received was learning that my wife was conscious and that her heart was working again without needing the balloon pumps," said Bravo. "It was almost like she was reborn: it was a miracle — a Christmas and a Jackson miracle!"
A few days later, she no longer required blood pressure support and was maintaining blood pressure on her own. There were no signs of brain damage, and she was taken off the ventilator on December 28. On New Year's Day, the hospital staff allowed Bravo to visit his high school sweetheart.
"I love how everyone worked as a team and had great bedside manner in the ICU," recalls Wolff. "They were inspiring, passionate about their work and you can tell they care about their patients."
Myocarditis, which Wolff suffered from, is a rare complication from COVID-19, and most patients do not survive. But the educator beat the odds and was discharged on January 26 with a walker.
Wolff's road to recovery has not been easy. After leaving the hospital, Wolff needed dialysis for her kidneys. To regain her strength, she underwent intense physical and occupational therapy three hours a day.
"The choices that they made for my life, were the right choices in those moments," said Wolff. "I am extremely grateful to these experts who gave it all, to give me a second chance at life."
During a press conference late February, Wolff and her family returned to Jackson South to thank the medical team that saved her life and met representatives from MDFR.
"I am so lucky to be alive," said Wolff. "God has a plan and it wasn't my time to go."