Jackson Health System Team Cares For One of Its Own After Successful Surgery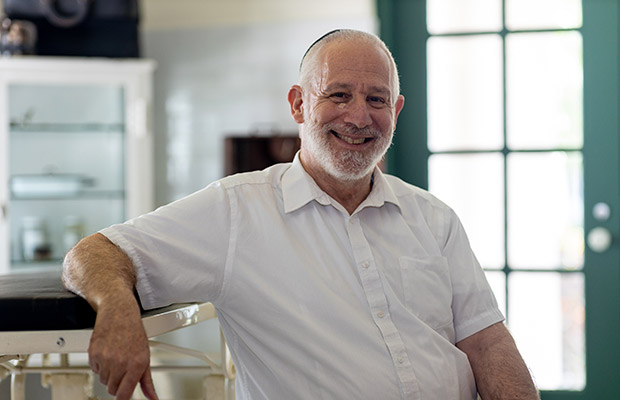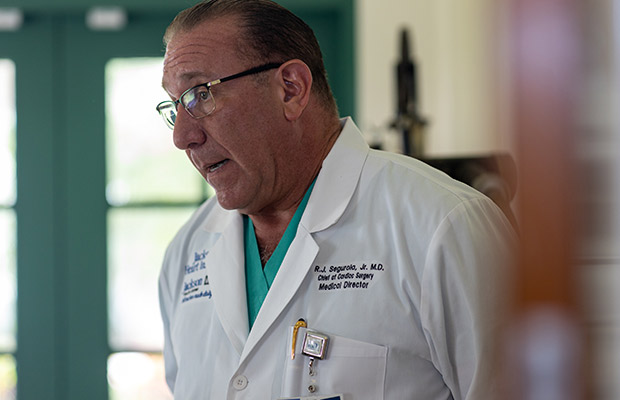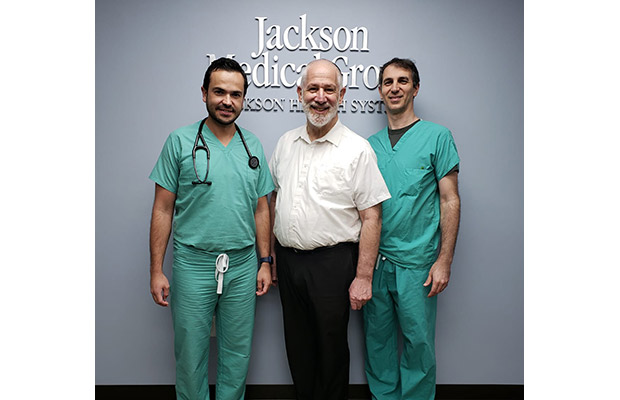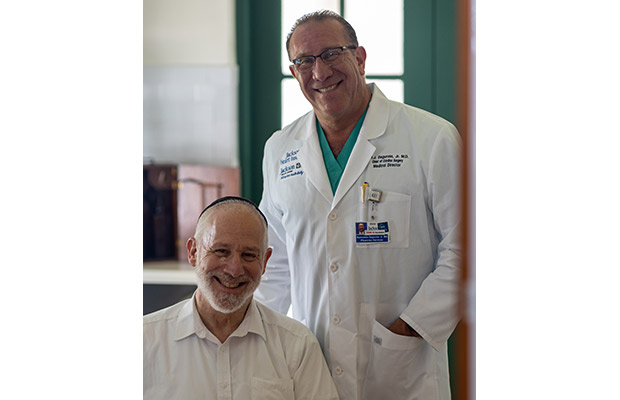 Earlier this summer, Jackson North Medical Center's Emergency Department treated a familiar face. The patient was Raymond Sandler, MD, medical director of gastroenterology at Jackson Medical Group's Jackson North location. During two separate trips with his family, Dr. Sandler experienced chest discomfort, which was out of the ordinary for him. He made sure to schedule an appointment with a cardiologist as soon as he was done with his travels.
"Over the last several years, I've become less physically active and have been gaining weight," Dr. Sandler said. "I used to be an active cyclist in Baltimore before I moved to Florida in 2004, but I never thought I'd end up in the emergency room."
He hadn't previously suffered from heart conditions other than one episode of atrial fibrillation two years ago. However, early in the morning on June 22, Dr. Sandler woke up with more chest discomfort. He was concerned about cardiac ischemia, a condition that reduces the heart muscle's ability to pump blood. This prompted him to ask his wife to drive him to the emergency department around 4 a.m.
The 64-year-old was met at the hospital by Assaf Tzur, MD, his cardiologist, colleague, neighbor, and friend. After performing several electrocardiograms (EKGs) on Dr. Sandler, the cardiac team saw an abnormality indicating severe blockage.
"I considered his age, sex, risk factors, prior CT scans showing a high calcium score, and the new EKG changes," Dr. Tzur said. "This prompted me to bypass the stress test and recommend an urgent catheterization."
After receiving the news, Dr. Sandler made sure his office staff knew what was going on so they could call his patients to reschedule his appointments.
"I already loved Jackson North, and since the impact of COVID-19, we have all bonded even more," he said. "I had the utmost confidence in the world-class care I was going to receive."
Interventional cardiologist Camilo Gomez, MD, performed the catheterization. Soon after the procedure, the medical team discovered that Dr. Sandler was suffering from more than they initially thought. He ultimately was diagnosed with severe coronary heart disease (CHD), which is the leading cause of death in the United States. CHD develops when the arteries cannot deliver enough oxygen-rich blood to the heart. The multidisciplinary team of cardiologists at Jackson North recommended Dr. Sandler have open-heart surgery.
"I'm the demographic for coronary heart disease so I wasn't surprised," Dr. Sandler said. "It was at that moment that I remembered having chest X-rays a few years back that showed calcified coronary arteries."
He was immediately transferred to Jackson Memorial Hospital, where he was seen by Romualdo Segurola, MD, FACS, Jackson Health System's chief of cardiac surgery who leads the renowned cardiac surgery team at the Jackson Heart Institute.
"Upon reviewing his file and initial diagnosis from Jackson North, I recommended bypass surgery," Dr. Segurola said. "What I saw was that he had triple-vessel disease, an extreme form of coronary artery disease, and would need to undergo a longitudinal sternotomy coronary surgery with endoscopic vein-graft harvesting, performed by making a small incision in the leg."
The surgery was successful with no damage to Dr. Sandler's heart, but it would take time for him to recover, which made him doubt his future as a physician and question if he should retire.
Despite feeling down, he woke up one day during his recovery to the news of the Surfside building collapse tragedy, a community that is a few miles away from his home. This pushed Dr. Sandler to change his perspective and focus on the positive things in his life.
Two months later, he's feeling more like himself, is sleeping better, and thankful to those who helped him, including his Jackson Memorial physicians and the intensive care unit staff for being compassionate and attentive. Dr. Sandler is also thankful to Amanda Perez, a hospitality coordinator at Jackson Memorial, whom he credits for helping his family navigate the hospital campus and providing them updates throughout his hospital stay.
Dr. Sandler has since returned to work at Jackson North, a place he's referred to as his second home since 2007. He also continues to have cardiac rehabilitation at Jackson Memorial and looks forward to having a healthier lifestyle into next year.
"I missed my coworkers and patients," he said. "I have my organic family at home, and I have my Jackson family that I am very close with."